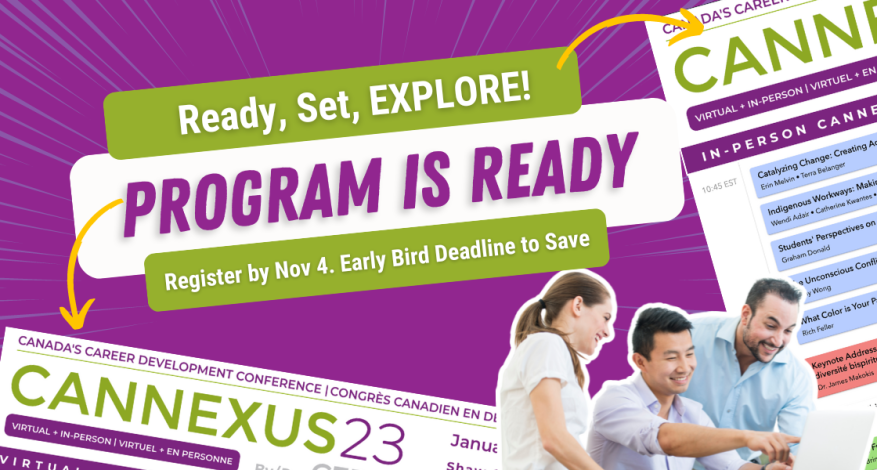 2022
Explore the 150+ sessions: Program now available for hybrid Cannexus23 conference
The Cannexus23 hybrid program has now been released for both the virtual edition and Ottawa-based in-person version of Canada's largest Career Development Conference, taking place Jan. 23-25, 2023. The program includes more than 150 sessions that will keep participants current with the latest knowledge, skills and tools as well as help to sustain resilience after more than two years of the "new normal."
Cannexus brings together professionals across the career and workforce development ecosystem to explore research, policy and practice. The conference will continue to reimagine the impact of career development on education, the economy and social justice as pandemic recovery unfolds. In the past, in-person Cannexus conferences have drawn more than 1,200 delegates to convene, share and learn, and the virtual conference has attracted more than 2,300 participants.
Incredible keynotes will inspire delegates: Indigenous diversity expert Dr. James Makokis, economist and futurist Linda Nazareth and Tareq Hadhad, the Syrian refugee and entrepreneur who founded Peace by Chocolate. Featuring top researchers, practitioners and thought leaders from across Canada and around the world (Candy Ho, Dr. Ken Keis, Gray Poehnell, Rich Feller, Sareena Hopkins, Lisa Taylor, Kris Magnusson, Sarah Delicate, Tannis Goddard, Graham Donald, JP Michel, Dave Redekopp and many more), here is just a sampling of the sessions on offer:
Career Development as a Lever for Poverty Reduction
Preparing Jobseekers for Virtual Work
What Employers Need from Career Development Professionals
Climate-aware Careers: Cultivating Hope
Build an Online Personal Brand for Counsellors
Future-proofing Students Through WIL
Adapting Skills for Success for Marginalized Groups
Post-Pandemic Interview Strategies
Youth Resurgence: Finding What Was Lost During COVID
The Future is Now: AI & Career Services
Catalyzing Change: Creating Access and Economic Mobility
What Color is Your Parachute and Beyond
Helping Clients Cope with Bias During Job Search
Finding Mental Health Opportunity Within Career Development Intervention
Labour Market Trends You Need to Know
KAIROS Blanket Exercise
CERIC is also partnering with the Future Skills Centre (FSC) to provide a dedicated half-day stream of programming called Future Skills @Cannexus as part of the in-person conference. At Cannexus23, Future Skills will showcase a varied program that highlights a vision for career guidance in Canada and delves deep into future trends and initiatives.
Included in both virtual and in-person registrations
Around the World special programming for global perspectives on career development: US, Europe and beyond
Keynotes on: Diversity and Unconsious Bias, The Redefined World of Work, and Resiliency through Adversity
Spark! sessions, our take on TedTalks that are intended to spark you to think differently about your work
Hybrid sessions act as bridges between the in-person and virtual conference, creating a shared Cannexus experience. In-person attendees also receive access to the virtual platform at the end of the conference. Both in-person and virtual attendees will have access to these recordings for six months.
Delegates can save by registering by the Early Bird deadline of Friday, Nov. 4. The cost during Early Bird is $330 for the virtual and $500 for the in-person conference. Members of groups of 5 or more save a further 25% off Early Bird rates as do members of 32 supporting organizations.