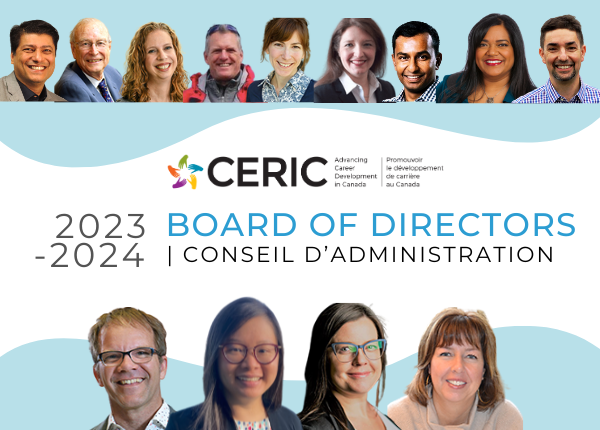 2023
Meet CERIC's Board and Committee Members for 2023/2024
CERIC is delighted to welcome the members of its Board of Directors and Advisory Committees for the upcoming year. The volunteer Board guides CERIC in its mission as a national charitable organization to advance career development in Canada. Award-winning career development leader Candy Ho, returns for her second year as Chair of the Board. 
Reflecting a broad cross-section of leaders, the complete list of Board members for 2023/2024 includes: 
Candy Ho, University of the Fraser Valley, Abbotsford, BC (Chair) 

 

Meghan Lavallee, Manitoba Institute of Trades and Technology, Winnipeg, MB (Vice-chair) 

 

André Raymond, Laval University, Quebec City, QC (Past Chair) 

 

Sue Watts, Employment + Education Centre (EEC), Brockville, ON (Secretary/Treasurer) 

 

Tony Botelho, University of British Columbia, Vancouver, BC 

 

Keka DasGupta, Precision Marketing Group Inc, Toronto, ON 

 

Dinuka Gunaratne, Northeastern University, Vancouver, BC

 

Darlene Hnatchuk, McGill University, Montreal, QC 

 

Valérie Roy, AXTRA, l'Alliance des centres-conseils en emploi, Montreal, QC

Rob Shea, Memorial University of Newfoundland, St. John's, NL 

 

Lisa Taylor, Challenge Factory, Toronto, ON 

 

Donald G. Lawson, The Counselling Foundation of Canada, Toronto, ON (Honorary Director – Ex-officio) 

 

Riz Ibrahim, The Counselling Foundation of Canada, Toronto, ON (Executive Officer – Ex-officio) 

 
Members of CERIC's three Advisory Committees – Practical & Academic Research; Content & Learning; and Advocacy & Community Engagement – have been appointed by the Board for the next year. Members of these committees play an important role in implementing CERIC's two strategic mandates: promoting career development as a priority for the public good, and building career development knowledge, mindsets and competencies. 
The focus of CERIC's work is education and research in career counselling and career development that increases the economic and social well-being of people in Canada. This includes funding projects that produce innovative career development resources. CERIC also annually hosts Cannexus, Canada's largest bilingual career development conference, publishes the country's only peer-reviewed journal, Canadian Journal of Career Development, and runs the CareerWise / OrientAction content hubs.