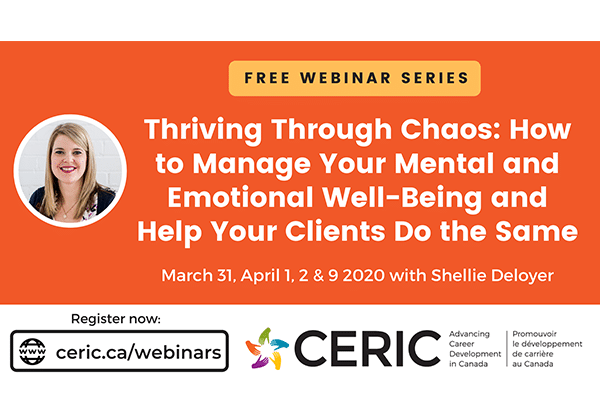 2020
Free webinar series to help career professionals thrive through chaos
COVID-19 has changed the way all of us are living and working right now. To support the career development sector through this uncertain period, CERIC is offering a free webinar series – Thriving Through Chaos: How to Manage Your Mental and Emotional Well-Being and Help Your Clients Do the Same – starting next Tuesday with Shellie Deloyer.
It is now more important than ever for educators and career development practitioners to increase their self-management skills and help clients do the same. The series will explore the tools, habits and resources that can help navigate these challenging times. This series is also offered with the aim for career practitioners to talk and interact with their community. At the end of each webinar, a longer Q&A session and opportunity for dialogue will be offered.
Webinar #1: Mastering Your Mindset: Finding Calm Through the Chaos Tuesday, March 31, 2020 | 12:00 pm – 1:00 pm ET
Webinar #2: Discovering Your Unique Opportunities Wednesday, April 1, 2020 | 12:00 pm – 1:00 pm ET
Webinar #3: Maintaining Your Momentum Thursday, April 2, 2020 | 12:00 pm – 1:00 pm ET
Webinar #4: Checking in with Participants Thursday, April 9, 2020 | 12:00 pm – 12:30 pm ET
Deloyer is a career coach and empowerment trainer and is the founder of Bright Futures Solutions. She empowers individuals and organizations to access their unlimited potential, gain clarity on their purpose and direction, and take action to create meaningful results. Deloyer has also consistently been one of the top-rated presenters at the Cannexus National Career Development Conference.