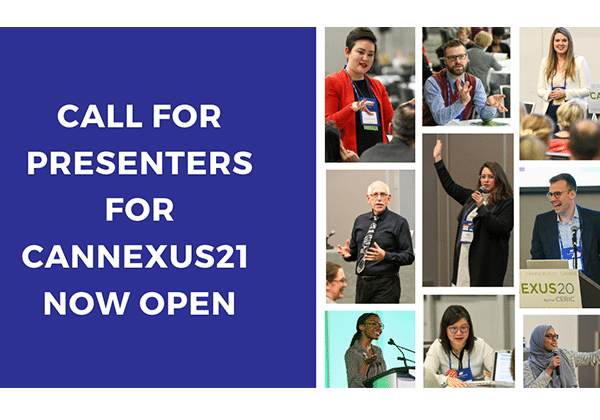 2020
Call for Presenters for Cannexus21 National Career Development Conference now open
CERIC invites individuals or organizations with an interest in presenting at the Cannexus21 National Career Development Conference to submit a brief outline for consideration using the Proposal Form and encourages them to inform colleagues or students of this opportunity. Planning for the 15th annual Cannexus conference, January 25-27, 2021, in Ottawa, remains underway at this point with all necessary precautions and contingencies. The deadline for proposals is Tuesday, June 2, 2020.
Although Cannexus takes place in January 2021, we understand with the concern surrounding COVID-19, individuals may be cautious about submitting a proposal at this time. We would like to assure you that submitting a proposal is not a commitment to present at the conference. If you submit a proposal and you are selected to present, you will receive a formal email invitation by the summer, and at that time you will be given a deadline to accept or decline the invitation.
Presenting at Cannexus provides you with an unmatched opportunity to exchange information and explore innovative approaches in the areas of career counselling and career and workforce development. You will gain recognition as an expert and leader in the field at the conference and beyond.
CERIC has identified areas of interest to assist presenters in targeting the content of their sessions. These are examples only; your ideas and suggestions are welcome.
Adult Education and Career Development
Advocacy & Profile Building (Sector, Services, Clients)
Career Development for Youth Outside of School
Career Education K-12 Students
Career Education Post-Secondary
Client Mental Health
Current Research, Theory & Methodology
Effective Career Counselling/Coaching Techniques
Employee Recruitment & Engagement
Employment/Training Programs (Community, Government, Industry)
Entrepreneurship & Self-Employment
Experiential/Work-Integrated Learning
Indigenous Career Development
Job Search Strategies
Labour Market Information
Leadership Development
Management & HR Issues for Career/Employment Centre Directors
Mature Worker Career Development
New Technology & Tools for Career Professionals
Online Career Service Delivery/Remote Learning
Rural Career & Community Economic Development
Self-Care for Career Professionals
Supporting Clients with Disabilities
Workforce Planning & Development
Working with Newcomer and Refugee Communities
Please review the terms and guidelines of presenting prior to submitting a proposal.
Cannexus is presented by CERIC and supported by The Counselling Foundation of Canada and a broad network of supporting organizations and sponsors.