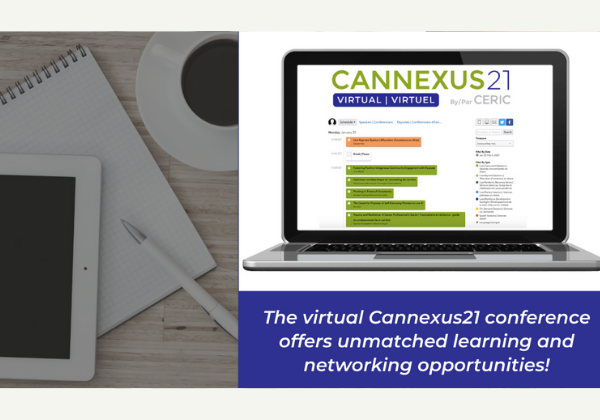 2020
Virtual Cannexus21 preliminary program now available online
The preliminary program for Cannexus21, Canada's Career Development Conference is now available online. Cannexus21 is going virtual and will continue to provide an accessible, content-rich and value-packed opportunity for Canada's career development communities to convene, share and learn. Cannexus21 takes place on January 25 & 27 and February 1 & 3, 2021, with recordings available for a full year.
Among the over 150 sessions exploring our theme of Career Development for Public Good, highlights include:
Building Back Better: How Work Needs to Change for Good After COVID with Jim Stanford (Live Pandemic Recovery Series)
Fostering Positive Indigenous Community Engagement with Purpose with Trina Maher (Live Concurrent Session)
Thriving with Mental & Emotional Well-being with Shellie Deloyer (Live Concurrent Session)
Integrating Career Development in the Early Grades with Ed Hidalgo and David Miyashiro (On-Demand Session)
Redeploying Talent: Industry-Responsive Upskilling During COVID with AJ Tibando (Live Workforce Development Spotlight Session)
Inclusive Supported Employment Practices for LGBTQ2S+ with Tara Buchanan (Live Concurrent Session)
Scaling Virtual Career Development on Three Campuses with Rich Feller, Mark Franklin and Jayne Greene-Black (On-demand Session)
Stay tuned for the release of session information for the special Around the World Sessions
All plenary sessions will be presented with interpretation
The conference will also have outstanding keynotes from Deloite Future of Work Executive Advisor Zabeen Hirji, Simon Fraser University's Dr. Kris Magnusson and Olympian Perdita Felicien. There were also be dedicated networking opportunities, including peer-to-peer matchmaking, as well as an Online Exhibitor Showcase.
Register now to receive the Early Bird rate of $248 available until November 12. Groups of at least 5 or Members of one 38 provincial, national and international Cannexus supporting organizations can benefit from an additional 25% off. And Full-time Students can register for just $50. Note that with the virtual platform, registrations cannot be shared, and individuals require their own registration.
Cannexus is presented by CERIC and supported by The Counselling Foundation of Canada and a broad network of supporting organizations.