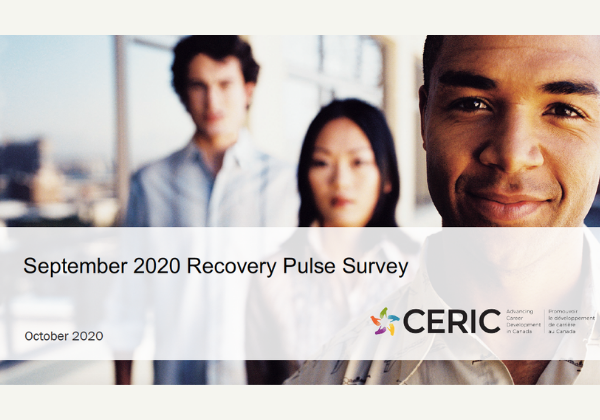 2020
Survey shows career professionals finding new ways to support clients, but mental health concerns and burnout emerge as risks
Canada's career and employment services practitioners continue to find innovative ways to adapt to the COVID-19 pandemic and meet the needs of their clients and students but challenges remain. Nearly half of respondents in a new survey of career and employment services (49.4%) identified developing new partnerships or services over the summer compared to 25.9% who said the same in June. Since the pandemic began, CERIC has been tracking how career and employment services have been affected and sharing insights back with the field.
In June, CERIC released its first Recovery Pulse Survey of 1,146 career development professionals from across the country. Over July and August, follow up interviews were completed with select individuals to further explore some of the experiences that practitioners were going through in greater detail. Between September 10 and 18, CERIC reached out to a sampling of respondents from its June survey who agreed to participate in a second survey to see how things had changed for them. A total of 195 respondents replied, allowing CERIC to get a sense of how some practitioners have seen their work evolve over the past few months.
Overall, demand for services and programming over the summer months has varied:
37.3% of respondents reported a decrease in demand,
32.6% reported an increase, and
30.1% reported no change.
A plurality of respondents continued to say they would be able to stay open, but with some slight changes to services/programming at 48.8% as compared to 54.7% in June.
Download as PDF
Many respondents shared examples of how they have been able to overcome certain challenges and demonstrate resilience. Comments were shared related to:
Finding new ways to support clients or students. "Not being able to provide our youth with a group setting was very concerning to me. We have created an online classroom through Google and with guest speakers from the community, and through a daily check-in, humour, information and perseverance, we have managed to create a safe and meaningful space for these youth. Very successful!"
Implementing tech solutions. "Communicating while working from home was a challenge, but initiating a Slack channel for our team helped immensely. It allowed us to collaborate quickly, keep in touch daily, and support each other in real-time. It also kept our communication very well-organized by topic/project, which made it significantly more useful than other 'chat' services such as WhatsApp."
Maintaining a work-life balance. "A major stressor across large numbers of staff was having their children at home while they had even more than usual in front of them. Resolved through explorations of how to divide up the work differently; encouraging even more flexible headspaces; checking in with staff to connect personally."
Creating staff connections. "We had 3 months of team challenges, where people received weekly points for things such as meditation, walking, exercise, drinking water, learning a new skills, connecting with a friend or co-worker etc., a blog and LinkedIn group where we would share pictures and stories with prizes at the end of each month. It was well received. People said it kept them motivated and gave them something to aspire to each day."
Dealing with changing demand. "Most noticeable is a decline in new intakes and a decrease in current client participation in activities. To increase our intakes we are working more aggressively with the Ministry to contact the recently employed and not wait for them to come to us. For clients that already exist, it is about informing them that a return to work may mean that there is a shift in how their job is done or that new skills may be required and this is an opportunity to address the shifting employers needs to stay relevant and achieve new and stable employment."
Handling a return to the office. "Shortly before we unlocked the doors to fluid traffic from the public, we were faced with a potential exposure to COVID-19. While procedures were in place to address cleaning, sanitizing and a variety of other health and safety practices, we did not have a process to deal with a potential exposure, as opposed to confirmed exposure. We had to work very quickly to contain the situation and mitigate any further or wider spread exposure. While extremely stressful, we learned that we could adapt very quickly and it forced us to further recognize that we would have to remain flexible and resilient as circumstances can and will change very quickly."
Respondents noted some slight improvements over the summer months in how they felt their students or clients viewed their situation. In September, 21.8% said that their clients or students view this time as an opportunity compared to 13.5% back in June. Overall, however, the vast majority of respondents, 78.2% in September (86.5% in June), continued to say that this time period was a source of stress for their clients or students.
Thinking ahead a few months, practitioners were asked for their thoughts on what their own work environment might look like and mean. Most respondents (38.8%) saw a partial return to the office in their future with some days in the office and some days at home. A further 26.8% said they were already back in the office full time, while 21.3% expected to continue to work from home until the end of 2020.
When asked what the implications for continuing to work remotely would be, a majority felt that their ability to work would carry on mostly unimpeded.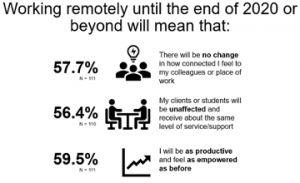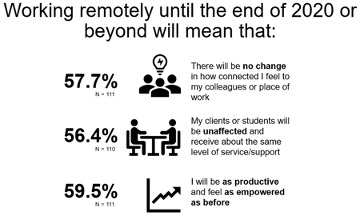 On the flip side, burnout was identified as a real possibility for many respondents in the coming months and that the problem was potentially even more acute for senior leadership. Overall, 35.5% were moderately or very concerned about burning out themselves. This compares to 42.9% who were moderately or very concerned about their senior leadership burning out.
Similarly, the mental health of both practitioners and the clients or students they serve is a strong concern. A noteworthy seven in 10 respondents (70.3%) indicated a deterioration in the mental health of their of clients or students. Meanwhile, 38.1% noted a similar deterioration in their own mental health.
As the COVID-19 situation continues to present uncertainty in all aspects of society, CERIC will keep tabs on where the field is going, what challenges are proving to be thorniest and what new opportunities are emerging. CERIC will continue to do outreach to the sector and share back what its learning so others can learn too. Towards the end of 2020, CERIC will be launching its third Recovery Pulse Survey to check-in once again and see how the situation is further evolving.