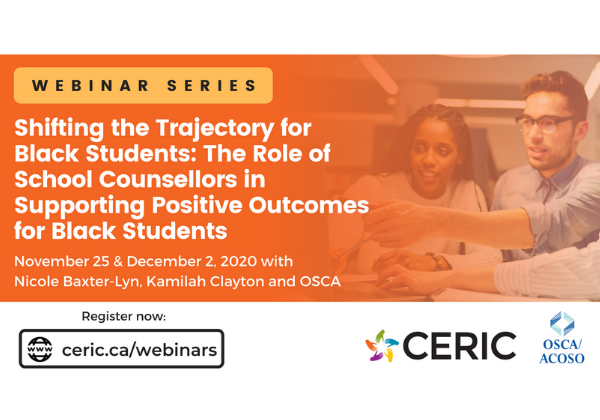 2020
New webinar series to help school counsellors support Black students
CERIC is pleased to be partnering with the Ontario School Counsellors' Association (OSCA) for the first time to offer a 2-part webinar series – Shifting the Trajectory for Black Students: The Role of School Counsellors in Supporting Positive Outcomes for Black Students with Nicole Baxter-Lyn and Kamilah Clayton.
School counsellors play a pivotal role in supporting Black students' sense of connectedness to their school community, and in setting students up for academic and professional success beyond their elementary and secondary school experiences. By attending this webinar series, current and prospective guidance counsellors as well as other educators and career practitioners, will learn how to approach guidance using an anti-racist, healing-informed approach.
Webinar #1: Enough is Enough: Disrupting Marginalizing Practices within Guidance – presented by Nicole Baxter-Lyn, Wednesday, November 25, 2020 | 6:30 pm – 7:30 pm ET
Webinar #2: A Focus on Inclusion – presented by Kamilah Clayton, Wednesday, December 2, 2020 | 6:30 pm – 7:30 pm ET
Baxter-Lyn is the co-founder and Vice-President of The Canadian Multicultural LEAD Organization for Mentoring or Training. Currently, she is a Provincial Equity Leadership Facilitator and she is also the Equity Teacher Facilitator Co-ordinator who oversees a team of anti-racist, anti-oppression consultants within the York Region District School Board. Clayton is a Registered Social Worker and psychotherapist, with over 10 years' experience working with children, youth and families in multiple settings. She utilizes an Identity Affirming approach to mental health and wellness for people of African descent/heritage, and her practice areas include: anxiety, depression, stress and racial identity.
This webinar series is generously sponsored by the Ontario School Counsellors' Association (OSCA). Thanks to their contribution, the series is offered at a discounted rate for non-OSCA members ($99) and for free if you are a member of OSCA.
CERIC partners with associations and organizations across Canada and beyond to present webinars that offer timely, convenient and affordable professional development. Previously, CERIC has worked with the Canadian Association for Supported Employment, New Brunswick Career Development Association, Ontario Association for Career Management, Canadian Association of Career Educators & Employers, Career Development Association of Alberta, Nova Scotia Career Development Association, Canadian Counselling and Psychotherapy Association, Vocational Rehabilitation Association of Canada, Career Professionals of Canada, Association of Service Providers for Employability and Career Training, and the US-based National Career Development Association.