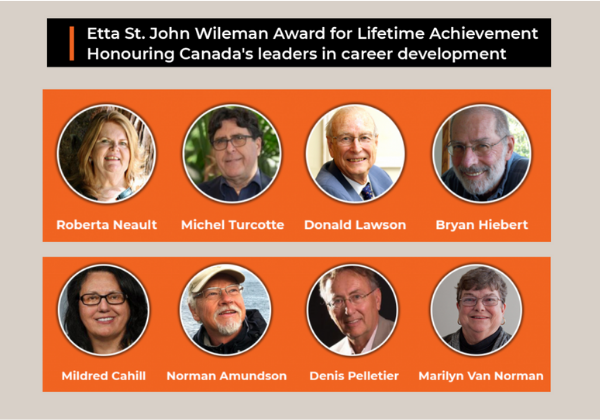 2021
Nominate a career development leader for the Etta St. John Wileman Award by June 30
The Etta St. John Wileman Award for Lifetime Achievement is designed to recognize individuals who have devoted their lives to enhancing the field of career development. If you know a leader who deserves to be celebrated – a changemaker who has shaped our communities for the better and has impacted your work and the work of the field in significant ways – complete the nomination form by June 30, 2021. 
The award seeks to: 
Honour individuals who have established themselves as leaders within career development.

 

Recognize trailblazers who combine being a mentor, educator, advisor, advocate and role model.

 

Encourage people in Canada and around the world to celebrate those who have contributed so much to the career development profession.

 
Leaders who have demonstrated a substantive and long-term commitment to career development are eligible to be nominated for this prestigious award. The Selection Committee encourages nominations of candidates from equity-deserving backgrounds or of individuals working with communities facing equity challenges. 
Presented on a less than annual basis at Cannexus, Canada's Career Development Conference, in Ottawa, the award is given in the name of Etta St John Wileman. A little over 100 years ago, with a World War that had just begun, Wileman emerged as champion and crusader of career, work and workplace development in Canada. She was a strong advocate for a national system of employment offices. She lobbied for the role of parents and schools in the career guidance of children. In short, she believed in the importance of work to the human soul.  
Reflecting the spirit of Etta St. John Wileman, past recipients of the award have included Marilyn Van Norman, Denis Pelletier, Norman Amundson, Mildred Cahill, Bryan Hiebert, Donald Lawson, Michel Turcotte and, most recently, Roberta Neault. Several of the previous honourees have recorded video messages to share what receiving the Wileman Award means to them.