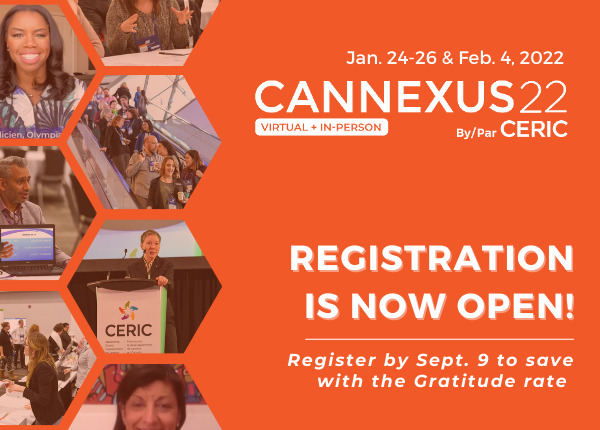 2021
Registration open for first hybrid Cannexus conference, Jan 24-26, 2022
The 2022 Cannexus Career Development Conference – to be held as a hybrid event for the first time – is now open for registration. This dual format for the 16th annual conference will offer the best of both worlds, providing an accessible, content-rich and value-packed opportunity for Canada's career development communities to convene, share and learn. Cannexus22 will take place Jan. 24-26, 2022 both virtually and in Ottawa, Canada with a bonus ​virtual-only conference day, Cannexus Reflections, on Feb. 4.  
Cannexus brings together professionals across the career and workforce development ecosystem to explore research, policy and practice. The conference will continue to reimagine the impact of career development on education, the economy and social justice as pandemic recovery unfolds. In the past, live Cannexus conferences have drawn more than 1,200 delegates and, last year, the virtual conference attracted more than 2,300 participants.  
Two keynote speakers have been announced so far for Cannexus22: Waneek Horn-Miller and Yvonne Rodney. Horn-Miller is a Mohawk Olympian whose keynotes are aimed at bridging the gap between Indigenous and non-Indigenous peoples. A former Director of the Career Centre at the University of Toronto, Rodney describes herself as an unapologetic introvert who is also an author, career consultant, speaker and playwright. She will discuss how to move from languishing to finding joy in the now.  
The Cannexus schedule for both the in-person and virtual portions is available with the program to be posted by the end of September. Content will cover current and emerging hot topics in career development, including: the future of work and workplaces, building mental health and resilience, and post-COVID labour market trends. Whether part of the in-person version or the virtual conference, delegates will be able to access: 
150+ sessions both live and on-demand

 

Presenters from across Canada and around the globe

 

Recordings that are available for six months

 

Networking opportunities

 

Exhibitor Showcase

 
This instalment of Cannexus will continue to offer special Gratitude rates plus deep discounts for groups, students and members of 30+ provincial, national and international supporting organizations. The Gratitude rate ends Sept. 9, 2021. There are also bursaries available to support individuals in attending the virtual portion of the conference. For 2022, the Marilyn Van Norman Bursary will be awarded to 13 applicants from charitable or non-profit community-based organizations. Additionally, the Young Professionals Bursary will support 12 emerging employment and career development practitioners to attend. Application deadlines are September 30, 2021.  
Cannexus is presented by CERIC and supported by The Counselling Foundation of Canada and a broad network of supporting organizations. For more information on the conference and to register, visit cannexus.ceric.ca.