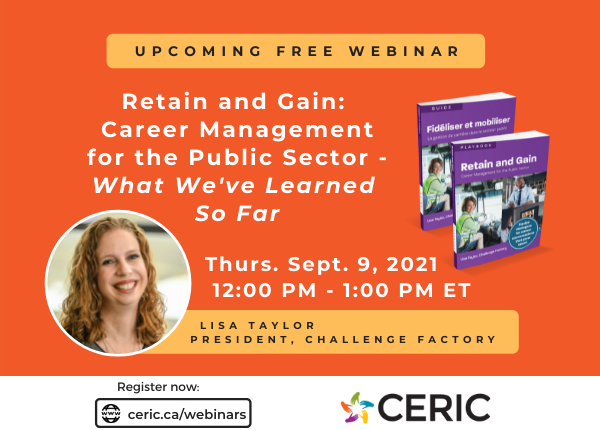 2021
Free webinar Sept. 9 to share insights into career management in Canada's public sector
Author Lisa Taylor will be offering a free webinar on Sept. 9 based on her popular new book that supports government managers in developing and engaging employees. Retain and Gain: Career Management for the Public Sector Playbook sold out on Amazon on its launch date and was downloaded more than 2,000 times in the first two months of release, demonstrating that career development, public sector careers and implications for public policy are critical topics in 2021.   
In this interactive webinar, future of work strategist Lisa Taylor will share how the Playbook has been received as she has worked with groups across the country to introduce this unique resource to executives, managers and employees. Having interacted with close to 1,800 public sector employees in a short period of time, Taylor will share some of the "behind-the-scenes" conversations, findings and uses that have been unearthed.  
Aimed at both public sector managers and career professionals counselling Canadians about opportunities in the public sector, the webinar will address: 
What career management looks like in the post-pandemic hybrid workplace 

 

How career management strategies can help to advance diversity, equity and inclusion  

 

Shifting demographics and the implications for career management today 

 

Concrete practical starting points for putting career management into action 

 

How public servants at all levels affect the career development of Canadians  

 
A sought-after expert on today's fast-changing world of work, Taylor is President of Challenge Factory and the Centre for Career Innovation. She offers invaluable leadership and insights on how to gain strategic workforce and career advantage with a focus on talent equity, demographics and new market dynamics. 
The Playbook, which was released in May, identifies 40+ low-cost tips, activities and actions that public sector managers can take starting today (some in only 10 minutes a day) to attract, engage and retain staff. Written in an innovative "travel guide" format, the Playbook integrates a focus on diversity, equity and inclusion (DEI) throughout and recognizes the unique context of public sector workplaces. It is available for purchase or can be downloaded for free at ceric.ca/publicsector. This Playbook follows two earlier Retain and Gain editions Career Management for Small Business and Career Management for Non-Profits and Charities.