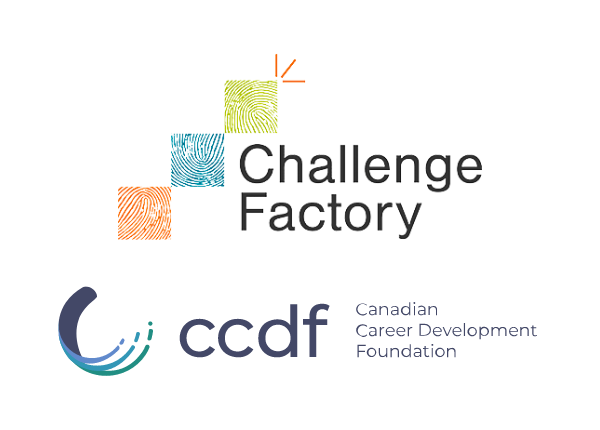 2022
Project to map Canada's career services landscape awarded to Challenge Factory and CCDF
CERIC has selected Challenge Factory in partnership with the Canadian Career Development Foundation (CCDF) to take on a project that will scope out who is providing career services where across Canada, producing insights that can influence the future of the field. This project will demonstrate the breadth and depth of support that Canadians receive from this sometimes-hidden sector as we all navigate a changing labour market. The career development sector can be critical leaders over the next 10 years, shaping the future of work, employment, education, purpose and community. 
Canada currently lacks basic comprehensive data on the overall size, scope and composition of its career development sector. Having this valid and credible information is necessary to inform the field itself as well as policymakers – and Canadians broadly – as to the makeup of this varied group of professionals. Scoping the career development landscape will increase the core intelligence available to the sector to address a range of work related to determining the socio-economic impact of career development, understanding career professionals' learning needs, and advocating for public awareness and recognition of the value of career development. 
Challenge Factory and CCDF bring deep expertise in research and the Canadian career development sector to this Scoping the Canadian Career Development Landscape project. Challenge Factory is a workforce development research agency and consultancy that helps purpose-driven organizations and communities shape the future of work, bringing transformative change to their people and workplaces. CCDF is a non-profit centre of excellence and innovation committed to ensuring every Canadian can be successful in their learning, work and career transitions, and to that end, conducts rigorous research to strengthen the evidence base.  
This project emerged from a Request for Proposal (RFP) that CERIC issued earlier in the year to undertake first-of-its-kind market research about the field. The purpose is to make the field more visible by answering fundamental questions around how many professionals are practising career development in some form in the country. As part of gaining a full picture of the career development landscape, the project will also seek to identify select high-level outcome measures that flow from the delivery of career services. Additionally, the research will consider the state of Equity, Diversity, Inclusion and Indigeneity (EDII) among career professionals in Canada and whether those providing career development services reflect learners and clients they serve.  
To date, research about the landscape of career development in Canada has been patchwork in nature and not produced reliable baseline date. This new mapping effort will create an up-to-date snapshot of the field by consolidating and leveraging information sources that already exist, then filling in the gaps using targeted primary data collection. Stakeholder engagement and collaboration throughout the project is planned to ensure incorporation of a diversity of sector-wide perspectives, knowledge and expertise.  
A key output of this project will be the development and testing of a "Scoping Model" that will provide a foundational evidence base about the structure of the pan-Canadian field. It will include insights and recommendations that will be of use to professional associations, educational institutions and employers who provide leadership and support to the field, and government policymakers who work on related policies, programs and funding. 
Project findings are expected to be available by early 2024.