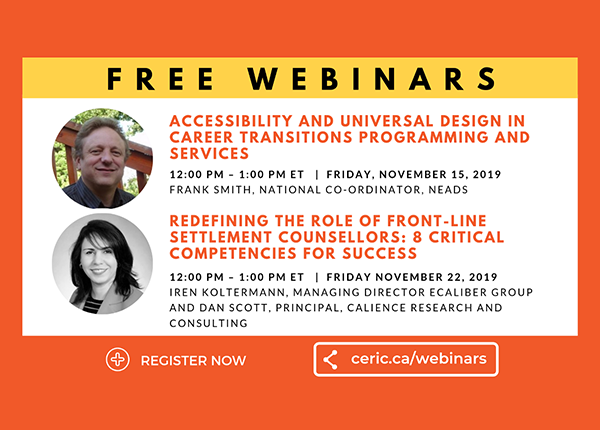 2019
Free webinars in November on universal design in career services and settlement counsellor competencies
CERIC will be offering two free webinars to share the findings of CERIC-funded research projects: Accessibility and Universal Design in Career Transitions Programming and Services on November 15 and Redefining the Role of Front-Line Settlement Counsellors: 8 Critical Competencies for Success on November 22.
CERIC supported the National Educational Association of Disabled Students (NEADS) to carry out a nationwide research initiative in order to understand the current best practices around accessibility, accommodation and universal design in career education of post-secondary students with disabilities. The webinar will be led by Frank Smith, the National Co-ordinator of NEADS.
Webinar Learnings:
Importance of combined academic and career-related experience for disabled students in college and university programs
How career professionals on campuses can foster opportunities and break down barriers for disabled students and graduates
Challenges for persons with episodic disabilities in post-secondary and employment experiences
Opportunities and advantages to hiring persons with disabilities who have post-secondary education
A new pan-Canadian CERIC-funded research project Settlement Services Counsellors Profile has identified a need to rethink the role of front-line settlement counsellors, especially as immigration levels rise. In this webinar, Iren Koltermann, Managing Director eCaliber Group and Dan Scott, Principal, Calience Research and Consulting will discuss the eight core competencies of front-line settlement counsellors.
Webinar Learnings:
The nature of the work of settlement counsellors, including their career path
The need for this role to evolve in response to the changing landscape of immigration and settlement
A simple approach to the identification and use of competencies
A description of key emerging competencies for the role of future settlement counsellors
Registered participants will receive a link to the recording of the webinars. So even if you can't make to any of these two webinars, you will still be able to access all the learning.