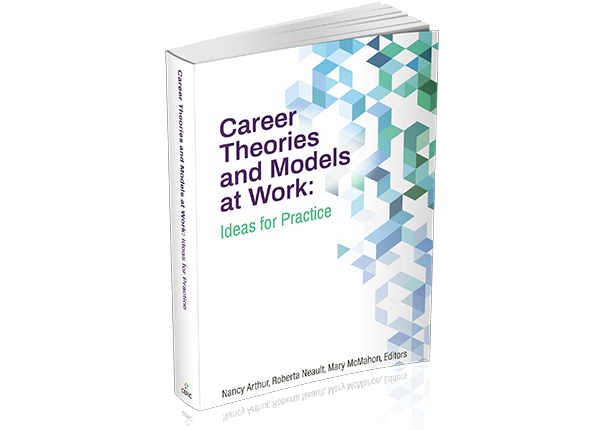 2020
CERIC to publish French edition of popular Career Theories and Models at Work book
Career Theories and Models at Work: Ideas for Practice, edited by Nancy Arthur (University of South Australia), Roberta Neault (Life Strategies) and Mary McMahon (University of Queensland) and published by CERIC, has gained popularity across Canada and beyond, generating interest from career development professors, researchers and practitioners around the world.
For the past few months, an international team of professors and doctoral students have been working on a project to translate the book into French. The French edition will be titled Théories et modèles orientés sur la carrière : des idées pour la pratique. All 43 chapters of the original edition will be translated with the addition of a preface reflecting the conceptual and regulatory distinctions in career counselling practices among the Francophonie in Canada, Europe and elsewhere in the world.
Readers will be able to discover a diversity of recognized and emerging theories and models of career development. Providing a theoretical perspective on the conception and practice of guidance and career counselling, each chapter includes a case study accompanied by a suggested intervention, with the aim of helping students, practitioners and researchers working in French to better design concrete applications of theory in the context of practice.
The publication consists of contributors from four continents and nine countries, including Australia, Canada, England, Finland, India, the Netherlands, New Zealand, South Africa and the United States. The featured authors include the original theorists and those who have adapted the work in unique ways to inform career development practice.
Louis Cournoyer (University of Quebec at Montreal) is co-ordinating the French-language translation of the book, with the collaboration of Patricia Dionne (University of Sherbrooke) and Simon Viviers (Laval University). The team of academics reviewing the French translation includes Sabruna Dorceus (University of Sherbrooke), Émilie Giguère (Laval University), Liette Goyer (Laval University), Philippe Jacquin (University of Moncton), Lise Lachance (University of Quebec at Montreal), Jonas Masdonati (University of Lausanne), Shékina Rochat (University of British Columbia), Jérôme Rossier (University of Lausanne) and Michel Turcotte (Laval University).
"From Parsons, to Holland, then to Super, to the more integrative, cultural, contextual and systemic models of today, the theories of career counselling and development, as well as their intervention models, have evolved considerably for more than a century," says Louis Cournoyer, Professor-Researcher at the University of Quebec at Montreal. This welcome, awaited and necessary book provides a rich and up-to-date portrait of the theories and models that can fuel the academic and continuing education of current and future professionals in career development. Cournoyer adds: "CERIC must be recognized and thanked for its commitment to invest in the translation and revision into French of such a work. This initiative will allow French-speaking students and professionals, in Canada, in Europe and elsewhere in the world, to acquire the most practical theories and models of intervention in their language!"
The English version of the book was released in January of 2019 at the annual bilingual Cannexus National Career Development Conference in Ottawa. To further disseminate knowledge from this resource, CERIC has hosted free webinars with authors from the book over the past year. The first French-language webinars are being offered with Louis Cournoyer, April 24, on An Adaptive Decision-making Approach to Career Counselling, and with Simon Viviers, April 27, on Psychology of Working Theory: A Transformative Approach to Work and Career.
The French edition of the book is expected to be available for January 2021.
To learn more about accessing or supporting this publication, please contact marketing@ceric.ca.