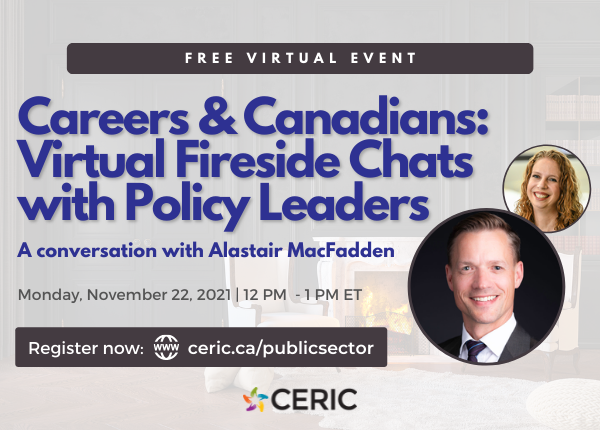 2021
CERIC to host Virtual Fireside Chat with Policy Leader Alastair MacFadden
Starting this Canada Career Month, leading current and former policy leaders from across the country will sit down with Lisa Taylor, future of work expert and author of CERIC's recently released Retain and Gain: Career Management for the Public Sector playbook, for a series of conversations on "Careers & Canadians." Lisa's first guest will be former Saskatchewan Deputy Minister Alastair MacFadden, for a virtual fireside chat hosted by CERIC on Monday, November 22, 2021. MacFadden currently serves as the Interim Director and Executive-in-Residence, Johnson Shoyama Graduate School of Public Policy.
This free series of virtual events will explore how career management can be taken up as a powerful tool in public policymaking, a theme in the new Retain and Gain playbook. The work done by public servants at all levels of government affects the lives, livelihoods and careers of every Canadian.
Both government policy-makers and career development professionals are encouraged to attend. Attendees will learn about:
How career development contributes to the public good for all Canadians
Opportunities for policy-makers to apply careers thinking and planning as part of public sector mandates
How to effectively link career development to policy agendas and demonstrate the effects of career development on the current and future workforce
The types of program considerations that can be enhanced with a holistic career lens
How adopting a focus on the full career circumstances and needs of Canadians can shift policy development
To learn more about presenters Lisa Taylor and Alastair MacFadden and the Retain and Gain playbook, and to register for this free event, visit the event page. A recording of the event will be made available to all registrants.