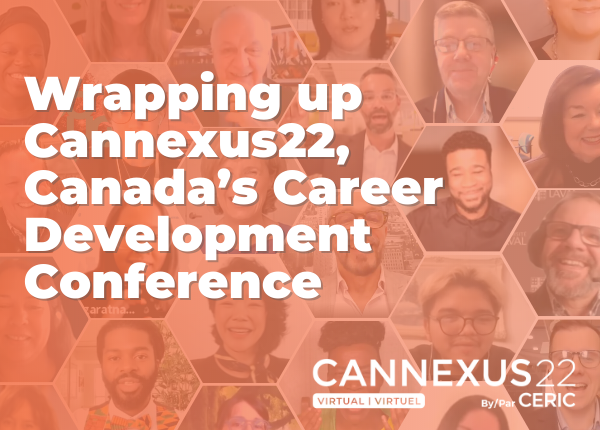 2022
Cannexus22 conference explored how career development changes lives, communities
More than 1,700 career development professionals from across Canada and around the world came together for the second virtual Cannexus conference in late January and early February. Delegates convened, shared and learned with a focus on the impact that career development can have on both individual lives and community well-being. The need for adaptability in challenging times was front and centre as the conference explored the latest research and practice to support meaningful client and learner transitions, and to build a more equitable society and prosperous economy. 
A few of the many highlights from Canada's Career Development Conference included four candid and powerful keynotes: 
Waneek Horn-Miller shared her story from the front lines of the Oka crisis and passed on her mother's advice: "Don't hand your dreams over to those who hurt you." 

 

Yvonne Rodney recounted her journey through the pandemic – from languishing and "blahness" to finding joy in the now – and encouraged us to "stop postponing your joy."

 

Randell Adjei suggested that problems offer us the opportunity to help people live richer lives using creative solutions: "We can't experience light, if we haven't experienced darkness."

 

Dr. Rumeet Billan redefined resilience and urged delegates to put in boundaries that prioritize what matters: "At the end of the day, it's YOU that takes care of yourself."

 
The conference featured several special streams, including Sector Leaders, Around the World and Workforce Development. Presenters included many well-known career development leaders including Tristram Hooley, Spencer Niles, Norman Amundson, Gray Poehnell and Roberta Borgen (Neault). With the conference virtual once again, delegates were able to learn about career development globally with sessions from Iceland to India and Australia to Vietnam. Among the 150+ different education sessions, there was strong interest in topics around: 
Enhancing career development in schools

 

Building the workforce of the future

 

Engaging with employers around skills, diversity and careers

 

Experiential and work-integrated learning 

 

Changing concepts of work in a post-COVID landscape

 

Career development and mental health in organizations 

 

Career adaptation in later life

 
Other components of the conference focused on making connections and peer-to-peer networking, with Cannexus22 offering exhibitor booths, "Hallway meetings," a virtual cocktail party, a student reception and a francophone meet-up. The KAIROS Blanket exercise also offered an opportunity to explore the relationship between Indigenous and non-Indigenous peoples in Canada. 
This year's recipient of CERIC's Etta St. John Wileman Award for Lifetime Achievement in Career Development was announced at Cannexus as Lynne Bezanson, Executive Director Emeritus of the Canadian Career Development Foundation (CCDF). Bezanson was recognized for a remarkable career, devoting herself to strengthening the reach and impact of career development in Canada and internationally.  
CERIC showcased some of its recent and forthcoming projects at the conference: 
Cannexus attendees got a sneak peek of Wayfinder, a new tool to access reflective practice resources from OneLifeTools. This tool comes from a

CERIC-funded project

meant to optimize how experiential learning can support career development through reflective practice. Watch for the public launch in the coming weeks!

 

A Research Circle shared the initial findings from a

CERIC-funded, pan-Canadian study

exploring career development among Grade 4 to 6 students. Led by Dr. Lorraine Godden and research partners, the study is examining what is happening in elementary education across jurisdictions in Canada related to introducing and building career-related foundational skills. A teacher toolkit is under development.

 

CERIC released the findings of a

survey of 500 employers

conducted by Environics. The survey reveals insights into Canadian organizations' views on: skills gaps in the labour market; hiring underrepresented groups as part of EDI strategies; investing in employee career development; and accessing the services of career development professionals. Media interest has been high since the release.

 
For the first time, this year's conference also offered a bonus day, Cannexus Reflections. Scheduled just over a week after the main conference ended, this day was aimed at helping delegates reflect on what they learned and facilitate taking action. 
In a post-conference survey, 96% of delegates rated the virtual conference as good to excellent, with 95% indicating they plan to share what they learned with colleagues to impact change broadly. Delegates cited enjoying the flexibility of attending remotely, the top-rated national and international presenters and the opportunity for community-building. Some also noted suggestions for enhancing the virtual platform and others shared they were looking forward to a hybrid conference option in future.    
Comments included: 
"Cannexus22 is the best professional development that currently exists in the field of career development. As a school division program co-ordinator, this job can be lonely. Getting to connect with professionals from all over the world has been rewarding. It's great to be in a space with like-minded people who are just as passionate about the work." 
– Kirby Krause, Career Development and Life Exploration Program Co-ordinator, Hanover School Division, MB 
"This was my first Cannexus, and I really enjoyed it. The keynote speakers were outstanding. The opportunity to network with other career development professionals was so beneficial – to learn from my peers, and share experiences was great for my own professional development."  
– Bernie McFarlane, Career Coach, Find Your Way to Work, Australia  
"Cannexus is a must for all those who value learning, development and ideas sharing in the career development field. The Cannexus conference increases knowledge, critical thinking and networking opportunities, and offers CDPs around the world the chance to unite, enriching practice and experience." 
– Bella Doswell, Faculty Instructor – Career Development Professional Diploma Program, Conestoga College, ON  
Cannexus22 was presented by CERIC and supported by The Counselling Foundation of Canada with a broad network of 36 supporting organizations and partners. 
The Call for Presenters and information about dates and format for Cannexus23 will be available in the spring. In the meantime, Cannexus22 delegates continue to be able to access the conference recordings for six months.