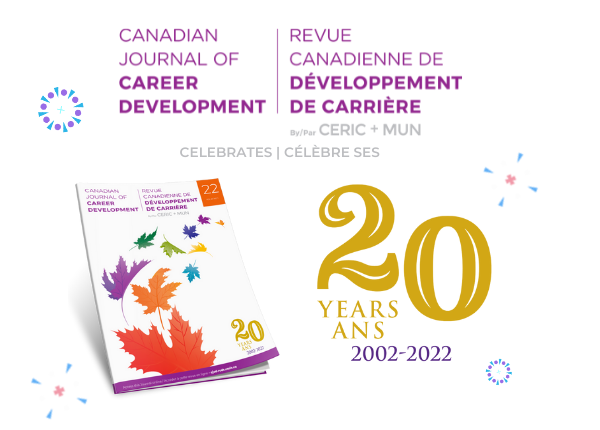 2022
New issue marks the 20th anniversary of the Canadian Journal of Career Development
The latest edition of the Canadian Journal of Career Development (CJCD) kicks off its 20th anniversary year. CJCD (Volume 1, Number 1) was launched as Canada's only peer-reviewed academic journal at the National Consultation on Career Development conference in 2002. Since then, the journal has gone on to publish 40 issues with articles from more than 350 contributors, and to gain more than 10,000 readers. As Founding Editor Rob Shea describes in From the Editor's Desk, "It truly has been a 'field of dreams' experience." 
The current issue (Volume 21, Number 1) includes a range of timely research from a needs assessment of virtual career practitioners to systemic issues in helping marginalized populations to well-being in the Canadian workplace. 
Articles
Research in Motion
Graduate Student Research Briefs 
The Canadian Journal of Career Development is a partnership between CERIC and Memorial University of Newfoundland with the support of The Counselling Foundation of Canada as well as the Social Sciences and Humanities Research Council of Canada. CJCD is published twice a year. It is free to subscribe to the digital editions and all issues of the open-access journal dating back to 2002 are available online.