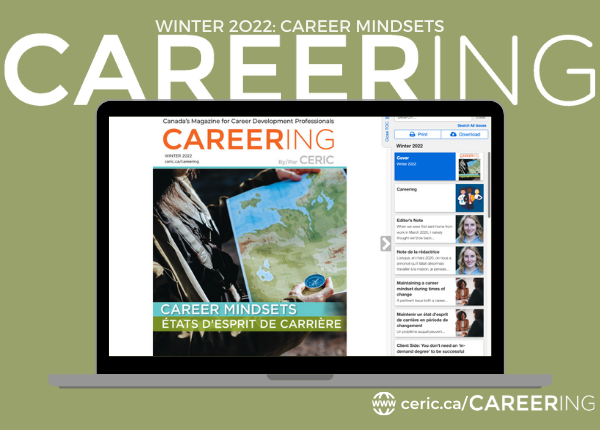 2022
Winter issue of Careering magazine shines a light on career mindsets
In this issue of Careering, we explore the many facets of Career Mindsets. Without a singular definition of this term in Canada's career development field, we left the door open for interpretation. The result was fascinating.
Authors connected the theme to art, exploration, social mentalities, limiting beliefs, fixed and growth mindsets, design thinking and return to work. They shared how they use career mindsets to support students, from the early grades through to graduate school; newcomers to Canada and to the career development field; and jobseekers across all stages of their career.  
Articles include:   
Careering magazine is Canada's Magazine for Career Development Professionals and is the official publication of CERIC. It is published three times a year and includes select content in French. Subscribe to receive your free copy. You can also access past issues for free online.  
The theme for the Spring-Summer 2022 issue of Careering magazine will be released later in February. Check back on ceric.ca/careering for the call for article proposals or sign up for CERIC's free CareerWise Weekly newsletter to get the latest updates.