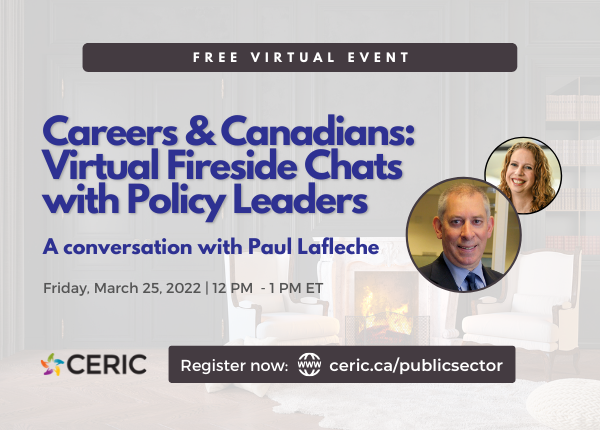 2022
Nova Scotia Deputy Minister Paul Lafleche to join us for a fireside chat on March 25
In the next installment of CERIC's Careers and Canadians series, Nova Scotia Deputy Minister Paul T. Lafleche will sit down with host Lisa Taylor to discuss how career management can be taken up as a powerful tool in public policymaking. This series invites current and former policy leaders to explore how career development contributes to the public good of all Canadians, a theme in CERIC's new playbook Retain and Gain: Career Management for the Public Sector authored by Taylor. 
Taylor, a future of work expert who is also President of Challenge Factory, will conduct this free fireside chat on Friday, March 25 (12:00 pm – 1:00 pm ET) with Lafleche, who is Deputy Minister, Department of Seniors and Long-Term Care and Deputy Minister, Municipal Affairs and Housing with the Government of Nova Scotia. Lafleche is an experienced senior executive and strategic advisor in government, academia and economic development. Starting in the natural resources field as an exploration geoscientist, he has had a varied career in the private and public sectors including as a licensed vocational education teacher. 
The aim of this series is to engage with government policymakers to apply careers thinking as part of public sector mandates. While career programs are typically considered the remit of departments of education and employment, there is evidence that career development principles should be included in many other public sector portfolios. Career development professionals who attend will learn how to effectively link career development to policy agendas.  
This series kicked off last November as part of Canada Career Month with Taylor interviewing former Saskatchewan Deputy Minister of Immigration and Career Training, Alastair MacFadden. One attendee called it "an inspiring and thought-provoking conversation with one of Canada's foremost thought leaders on career development." 
Register for the upcoming fireside chat or watch past recordings.