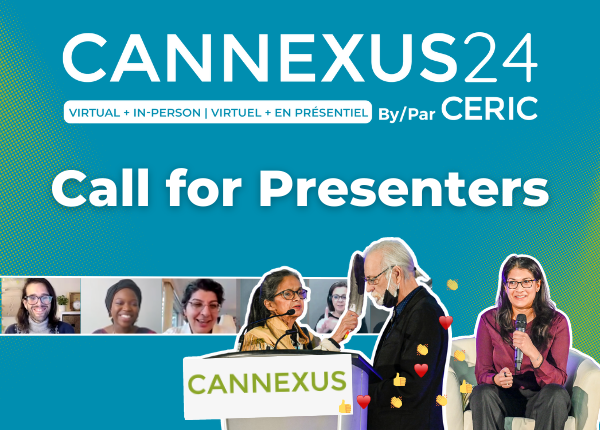 2023
Cannexus24 Call for Presenters now open; deadline is June 2
CERIC has issued its Call for Presenters to be part of the next hybrid Cannexus, the largest bilingual Career Development Conference in Canada. The call is open to anyone who wants to help the career development community to reflect, celebrate and dig into new trends. Speakers can present in-person in Ottawa, Canada, or virtually at the conference to be held Jan. 29-31, 2024. Cannexus welcomes presentations in either English or French. 
Presenting at Cannexus provides an unmatched opportunity to exchange information and explore unique and effective approaches in the areas of career counselling and career and workforce development. The last conference brought together more than 2,000 people across Canada and the world. Presenters inspire others thanks to their knowledge and gain experience as well as a new level of networking. 
Cannexus speakers are researchers and practitioners from universities, schools, community agencies, governments, private practices and corporations. We strongly encourage proposals from individuals from equity-deserving groups, including Indigenous, racialized, 2SLGBTQIA+ and people with disabilities. Speakers and attendees are professionals in career and workforce development and related fields who are forward-thinkers with fresh and impactful ideas and projects to convey. 
More than 30 themes have been identified to help presenters develop their submissions. Areas of interest range from Effective Coaching Techniques to Advocacy and Social Justice, and from Job Search Strategies to the Future of Work and Workplaces. There is also interest in sessions on Management and HR Issues geared to directors of career and employment centres. Additionally, international presenters are also welcome to present global perspectives on career development research and practice. 
The submission deadline is Friday, June 2, 2023. Please review the terms and guidelines of presenting prior to submitting a proposal. Learn more about Cannexus in this recap of Cannexus23 along with reviews from past delegates. 
Cannexus is presented by CERIC and supported by The Counselling Foundation of Canada and a broad network of supporting organizations and partners.