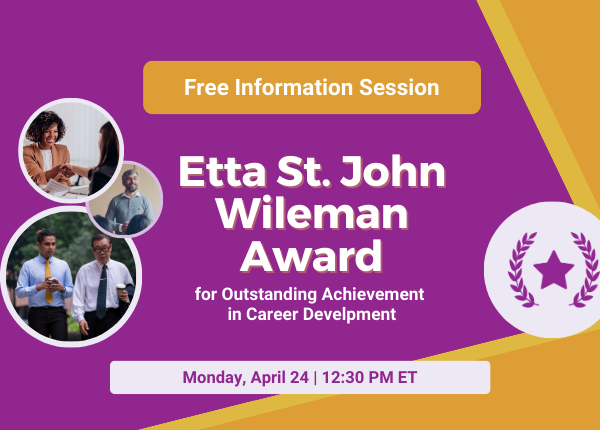 2023
Free info session on Apr. 24 to outline changes to Wileman Award 
As CERIC announced earlier this year, the career development community's flagship award is evolving to become more inclusive and accessible. A free information session on Monday, April 24 will discuss changes to the Etta St John Wileman Award for Outstanding Achievement in Career Development, how to nominate a colleague and provide time to answer any questions.
Join two members of the Wileman Award Selection Committee to find out everything you need to know to nominate a deserving candidate by the June 30 deadline. Cathy Keates (Queen's University) and Yvonne Rodney (Inner Change Consulting/JVS Toronto) will share:
Why the Wileman award is transforming to ensure we are recognizing the full spectrum of professionals making a meaningful difference in career development in Canada AND the committee consultation that led to the changes
How the award's focus has shifted from "lifetime" to "outstanding achievement"; how the definition of leadership has expanded; and how new criteria related to justice, equity, diversity & inclusion have been added
What you and your organization can do to nominate an individual among your colleagues and networks who has made a significant impact to enhancing the field of career development, regardless of role or position
Plus, there will be ample time for questions to ask anything you'd like to know about the changes to the award or about the nomination process.
This is your chance to learn how you can honour those blazing trails within career development through outstanding service, community engagement or other forms of impact and leadership.
Register now for the info session. Be sure to sign up even if you can't attend live and you'll receive a copy of the recording.