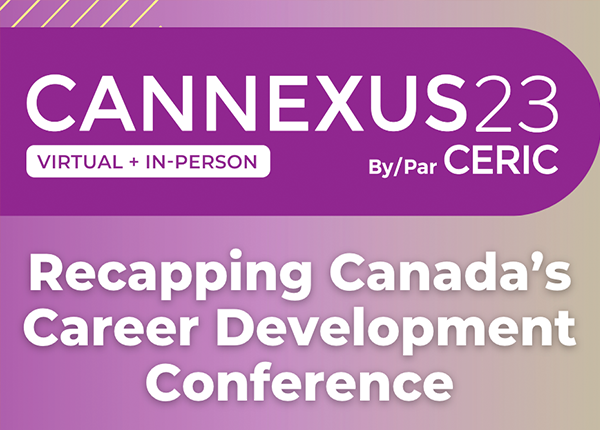 2023
Curious, hopeful, empowered: Recapping Cannexus23, Canada's Career Development Conference
More than 2,000 career development professionals from across Canada and around the world joined together for the first hybrid Cannexus conference from Jan. 23-25, 2023. Whether attending in-person in Ottawa or virtually, delegates expanded their knowledge, built strong networks and felt proud of the meaningful work they do. They learned about emerging trends and issues from transitioning to a net zero economy to trauma-informed counselling and left curious, hopeful and empowered.
Among the many highlights from Canada's Career Development were three exceptional keynotes:
Dr. James Makokis spoke about two-spirit diversity, elevating Indigenous knowledge in equity and justice work, and being critical of systems of oppression
Linda Nazareth discussed the megatrends redefining our careers, including climate change, the demographic shift of an aging population and industry 4.0 (e.g. Internet of things)
Tareq Hadhad shared his journey to Canada and building his company, Peace by Chocolate, highlighting how immigrant talent enriches our country and drives economic growth
The hybrid conference featured both established and emerging career development leaders from across Canada and around the globe as presenters, including those from the U.S., U.K., New Zealand, Pakistan and Taiwan. Across 150+ different education sessions, attendees examined current and emerging workforce realities and the best ways to support students and clients through unprecedented transitions. This includes graduates transitioning out of school into an expected recession, adults who are shifting careers at a time of continued historic labour shortages, and the record number of newcomers integrating into the job market. Just some of the topics covered at Cannexus23 included:
"Re-entry moms" in the wake of the "she-cession": Moms who were primary caregivers with resume gaps and are prime untapped talent
Student mindsets from a survey of 16,000 post-secondary students in Canada: What young people want from their careers right now
Navigating implicit bias in the job search for underrepresented populations during recruiting and hiring
The career re-engagement of post-retirement age workers and the shared benefits for employers and employees
Cultivating climate-aware careers that lessen the impact of ecological change and reflect people's shifting values
Forthcoming CERIC-funded research was also in the spotlight at Cannexus. Project leads talked about their work on supporting career development in children grades 4-6; the impact of the COVID-19 pandemic on career development; and a holistic career intervention model to support immigrants.
This year's conference contained many special programming highlights.
As part of a new collaboration with CERIC, the Future Skills Centre ran a dedicated half-day called Future Skills @Cannexus. It drew on FSC's emerging research and pilot project insights to explore innovations in Canadian career development and employment services. It also looked at strategies for employers as they navigate change and included panellists from Walmart, RBC and the Government of Nova Scotia. Canada's first Career Development Professional Centre, dedicated to free training on career development, was also launched during the Future Skills program.
The previously announced Etta St. John Wileman Award winner Lynne Bezanson was able to accept her award in-person at this year's Cannexus conference in Ottawa. Bezanson, who is the Executive Director Emeritus of the Canadian Career Development Foundation (CCDF), was recognized for strengthening the reach and impact of career development in Canada and internationally. At the same time, an evolution of the award was introduced. Now called the Etta St. John Wileman Award for Outstanding Achievement, the next nomination deadline is June 30, 2023.
Fifty sectoral leaders gathered during Cannexus for a consultation to consider how the field might develop a National Advocacy Campaign for career development. They participated in a "human-centred design lab" run by Overlap Associates and explored potential aims of a campaign. Throughout the conference all delegates had the opportunity to provide their input via a series of Menti polls. The three themes that rose to the top were around advocating for 1) increased career guidance in K-12 systems 2) the right to decent work and 3) stronger mental health through career development.
Other components of the conference focused on making connections, with Cannexus23 offering exhibitor booths, networking events and meetups – both in-person and virtually. The popular KAIROS Blanket exercise also returned to in-person Cannexus and offered the chance to explore the relationship between Indigenous and non-Indigenous peoples in Canada.
In the post-conference survey, 94% of delegates rated the experience as good to excellent and 80% indicated they plan to use what they learned right away to enhance their work. Delegates referenced the inspirational keynotes, inclusive community and the exchange of ideas. Virtual attendees expressed appreciation for the opportunity to continue to attend Cannexus remotely while in-person attendees spoke of the value of being able to connect with colleagues face-to-face again. Comments included:
"It was an absolute pleasure to attend Canada's largest Career & Workforce Development Conference. Cannexus provides an incredible opportunity to network and build strong working relationships. The conference experience was inclusive and inspirational on all levels."
– (In-Person) Cindy Willcott, Lead Case Manager, YMCA Nova Scotia Works (Halifax)
"Strengthening relationships and collaborations is so essential for the career development community. Presenting and attending Cannexus23 virtually allows me to keep up with international trends and network with my peers from around Canada and the globe."
– (Virtual) Heather Lowery-Kappes, President, Career Development Association of New Zealand (CDANZ)
"Cannexus23 was incredible. Not only did I gain valuable insights and information in relation to the work that I do and people I support, but I also met other like-minded individuals passionate about career and workforce development…The impact of this conference on myself, and the work that I do, will be significant. I can't wait for next year!"
– (In-Person) Nicole Bowes, Career Services Co-ordinator, Northwestern Polytechnic (Grande Prairie, AB)
"Cannexus virtual conference 23 was absolutely empowering. As a first-time attendee, I can't put into words how much knowledge was brought together. I am excited to take this information to the office and start putting it to the test. Lastly, the diversity and inclusion throughout the conference was incredible."
– (Virtual) Chelsey Compton, Client Engagement Officer, Government of PEI (Charlottetown)
Cannexus23 was presented by CERIC and supported by The Counselling Foundation of Canada with a broad network of 41 supporting organizations and partners. Mark your calendars for the Cannexus24 conference to be held Jan. 29-31, 2024. The Call for Presenters will be released this spring. In the meantime, all Cannexus23 delegates continue to have access to the virtual conference recordings for six months.