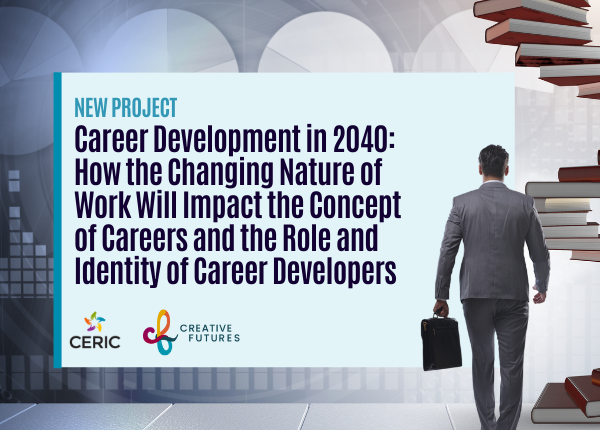 2023
CERIC awards Career Development 2040 project to Creative Futures
Toronto-based consultancy Creative Futures Studio will lead a new research project for CERIC that examines how the changing nature of work will impact the concept of careers and the role and identity of career developers. Their unique approach will focus on applying strategic foresight and participatory research to identify future-focused recommendations for the career development ecosystem in Canada. The research will look forward to 2040 to anticipate: What might be the role of career developers? Will "careers" as they are currently conceptualized exist or how might they evolve given current macro-level changes impacting jobs and the way we work?  
Canada has a rich ecosystem of career development professionals helping people to understand their career options, get the right skills and training, find work and grow in their roles. Many also help people address life issues that prevent them from reaching their career goals. A deep analysis into the broader shifts related to the future of work will help diverse career developers as well as policymakers to be prepared for the future. Prior to COVID-19, a host of broad social, technological, economic, environmental, political and values-based changes were disrupting Canada's labour market. The pandemic accelerated many of these changes, while introducing new disruptions further complicating the landscape for career development.  
With that backdrop, CERIC's aim is for this future-focused research to examine: 
What are the macro factors redefining the changing workplace and career paths?

 

What is the future role and identity of career developers?

 

What career-oriented services and supports will people need in the future, and how will current services need to adapt to meet these needs?

 
For Phase 1 of the project, Creative Futures will use a strategic foresight method called horizon scanning to identify a range of changes impacting the future of career development. The research will also involve interviews with career developers across Canada as well as with users of career services. This resulting trends analysis will be used in Phase 2 to develop four possible future scenarios that explore different versions of work in 2040. These scenarios will form the basis of a participatory workshop with career developers to explore how their profession might evolve and how current services must change to support their clients' future needs. Phase 3 will see the release of these research findings by April 2024. 
Creative Futures helps public, non-profit and socially minded leaders plan and prepare for their future. Using applied futures research, they work with organizations to navigate complexity and embrace uncertainty, arming them with the tools to think beyond present-day issues and imagine, prepare for, and navigate multiple potential futures. Creative Futures brings extensive experience researching the future of work, including have led the Brookfield Institute's multi-year Employment in 2030 initiatives.  
The awarding of the project comes in response to a Request for Proposals that CERIC issued last fall.  The purpose is to identify factors that define and conversely limit identity making of career developers, as well as the roles they see themselves playing through this identity and through the interplay of macro socio-economic external factors. CERIC is interested in understanding how these factors are going to drive the evolution of role and identity within the career development field, in addition to the skillsets and competencies that will be needed to navigate these changes.