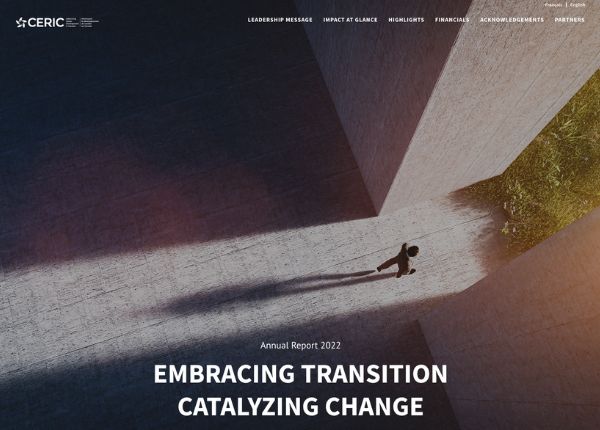 2023
CERIC 2022 Annual Report documents transition for organization, sector in catalyzing change
The latest CERIC Annual Report describes 2022 as a year that was unlike anything that preceded it or that we may see again in the future. With a theme of "Embracing Transition, Catalyzing Change," this Annual Report chronicles a series of transitions for CERIC as an organization as well as for the broader career development communities we serve. It highlights CERIC's activities, impacts and reflections as we worked to promote career development for public good and to build career development knowledge and mindsets. 
In their Leadership Message, Board Chair Dr. Candy Ho and outgoing Executive Director Riz Ibrahim discuss the experience of needing to pivot in the face of ongoing challenges with COVID to offer our flagship Cannexus conference as an all-virtual gathering for the second time. But with more than 1,700 delegates in attendance, it was evident that the learning at Cannexus and broader access of a virtual event held strong appeal. These were notable factors as we worked to plan the first hybrid Cannexus for 2023.  
The year was a busy one, filled with new and continuing research and learning projects: 
This past year was also one to build on existing partnerships and forge new relationships: 
Meanwhile, during 2022, CERIC continued to invest in its core programming. The Canadian Journal of Career Development celebrated 20 years of publishing as the country's only peer-reviewed academic journal in the field. Our CareerWise and OrientAction sites continued to empower career practitioners with insights and resources. CERIC's Graduate Student Engagement Program was paused for relaunch in 2023 and is being retooled to best support the next generation of career development researchers in Canada. 
In early 2022, CERIC started to engage in organizational work around equity-centred leadership. This work would immediately start to redefine our Board and Committee composition, increase the focus on equity and access to our learning offerings, and give us an opportunity to explore how the Etta St. John Wileman Award could become a more inclusive, accessible recognition of outstanding achievement in career development in Canada. This was envisioned as just the start of many changes to come in the years ahead. 
A major transition for CERIC saw Executive Director Riz Ibrahim announcing that he would be moving on to the role of President and CEO of CERIC's funder, The Counselling Foundation of Canada, in spring 2023. After a national search, we ended the year with a new incoming Executive Director, Kay Castelle. Castelle would join CERIC at the end of February 2023, ushering in a new era for the organization. 
In addition to these highlights of transition and change, the CERIC 2022 Annual Report includes the organization's financial statements and an acknowledgement all those who have contributed to the promise of even deeper impacts in the years ahead. A special thanks went to CERIC staff for their resilience, to Board and Advisory Committee volunteers for their guidance and to The Counselling Foundation of Canada for its ongoing commitment to the work of CERIC.