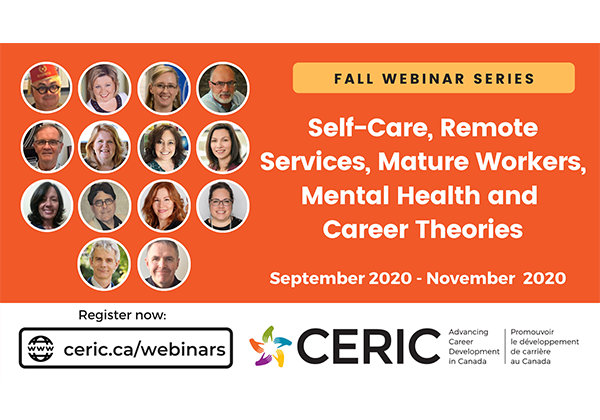 2020
New fall webinars to address self-care, remote services, mature workers and more
CERIC along with its partner associations are offering a variety of both paid and free webinar series this fall to support the career development community, in particular related to how to thrive in this age of uncertainty. Register now to update your professional skills and learn new ways to support your clients and maintain your own well-being.
The fall webinar schedule features:
For paid webinar series, registered participants will receive a password-protected video recording of each session. The recordings will remain available for one month after the final webinar of the series to allow you to catch up if you miss any weeks. For free webinar series, the recordings will remain available indefinitely.
CERIC partners with associations and organizations across Canada and beyond to present webinars that offer timely, convenient and affordable professional development. Previously, CERIC has also worked with the Canadian Association for Supported Employment, New Brunswick Career Development Association, Ontario Association for Career Management, Canadian Association of Career Educators & Employers, Career Development Association of Alberta, Nova Scotia Career Development Association, Canadian Counselling and Psychotherapy Association, and the US-based National Career Development Association.