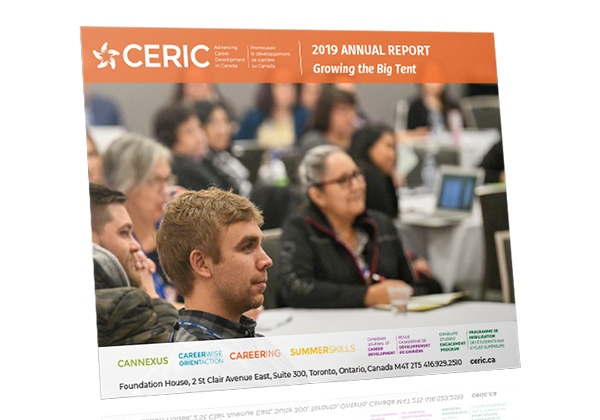 2020
Growing the Big Tent: CERIC's 2019 Annual Report
While 2019 already feels like a lifetime ago, CERIC is pleased to release its Annual Report which focuses on our role in expanding an inclusive and broad-based tent that advances career development in Canada. This role of building community and collaboration continues during the pandemic. As you'll read, we are striving to create an even bigger and more vibrant place where research and education shapes practice and practice gives rise to greater economic well-being and social good.
In the 2019 Annual Report, Board Chair John Horn and Executive Director Riz Ibrahim discuss the value of the big-tent approach that permeates all of CERIC's programs and convenings. Over the past year, we funded projects that catered to multi-sectoral career and employment professionals. We welcomed international colleagues into our tent as we worked with Canadian theorists to celebrate the contributions they made on informing career development practices globally. Our work acknowledged the diverse constituents that career professionals support, and the effect their work has on the mental health and well-being of those they serve. All the while, we reached broadly to connect with francophone career professionals within Quebec and across Canada, settlement counsellors and others as their voices resonated within the tent.
Some of the many highlights for CERIC:
A few measures of our impact include:
The 2019 Annual Report includes a review of key activities from the past year across CERIC's three strategic priorities: Research & Learning, Community & Collaboration and Advocacy & Profile, as well as an overview of the year's financial performance. Special thanks is also given to CERIC's funder The Counselling Foundation of Canada, volunteers, staff and partners.