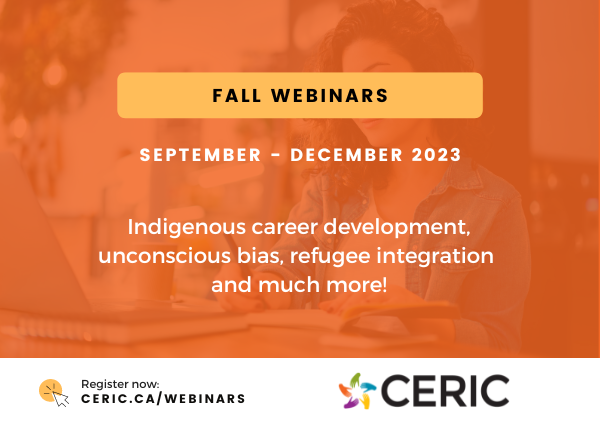 2023
Announcing Fall Webinars: Indigenous career development, unconscious bias, refugee integration and much more
CERIC, along with its partner associations, will be offering a variety of webinar series in the next few months to support the career development community on a range of timely topics. Take a look at our comprehensive list – and take advantage of the Zoom AI-generated live captions available in multiple languages, including English and French for each webinar series.
Indigenous peoples represent about 5% of the world's population but make up 15% of the world's poor. Indigenous peoples are also more likely to face obstacles to workforce entry due to racism, unconscious bias and discrimination. This leaves well-meaning career practitioners at a loss for how to best support their clients.
This free webinar series will provide an opportunity to learn from inspiring Indigenous career professionals from New Zealand and Canada, who will share their journey in the career development field and their perspectives on cultural approaches to Indigenous career development.
As career practitioners, whether in individual or group sessions, we interact with various clients, including those with multiple barriers or diverse needs. These clients or students may require additional strategies and techniques for empowering them and helping them succeed in their careers and educational paths. The Change It Up (CiU) approach, based on decades of research, incorporates the Fab 5 principles: hands-on, learner-centred, holistic, strength-based and trauma-aware.
This free webinar will introduce you to the CiU approach to counselling and teaching and will offer you the opportunity to explore the "how" of working in the field of career counselling.
Career development entrepreneurship, often approached as a solopreneur, can be seen as a seemingly impossible dream. How does one go about launching a private practice? What types of options are available to advisors? What challenges do people face? What are the essential tools and resources for preserving mental health? How do you combine your role as a practitioner with that of an entrepreneur?
The four sessions in this series will serve as a guide to private practice, covering key elements such as the myths and realities of self-employment, effective client recruitment, ethics and obligations, marketing and communications strategies, and essential work tools. This French webinar series aims to prepare and raise awareness among career development professionals who dream of entering private practice.
Despite the growing number of diversity hiring plans across various sectors, jobseekers still have concerns about hiring bias. Moreover, hiring bias has proven to have a negative impact on the well-being and mental health of workers. This creates greater roadblocks to career success, especially for underrepresented groups.
This new webinar series will explore the profound impacts that implicit bias has on job search and worker well-being. It will also provide career development practitioners with the tools and knowledge to strengthen their multicultural competency. Participants will leave the series equipped to effectively advocate for their clients and provide better support throughout their career journeys.
Many individuals who seek career counselling services experience psychological distress, particularly in relation to decision-making difficulties. Their fears, doubts, stress and sometimes anxiety tend to block their ability to mobilize and make choices. Faced with this, the professionals whose role it is to help them may themselves feel powerless, lacking concrete, effective tools to mobilize and support their clients.
The Acceptance and Commitment Approach (ACT) is a scientifically rigorous, evidence-based approach with proven effectiveness. This approach offers concrete interventions that career counsellors can apply both to their clients – to guide and support them in achieving their life and career goals – and to themselves, to take care of their role as counsellors and overcome the challenges specific to our practice, particularly with difficult clients.
Note that OCCOQ recognizes the full series for 3 hours of credits.
The number of refugees admitted in Canada (and specifically Quebec) is set to increase over the next few years. To effectively support their social and professional integration, it's crucial for career practitioners to grasp the actual circumstances of these individuals. Unfortunately, counsellors often encounter challenges, as prevailing research in this domain primarily focuses on skilled immigrants, leaving a gap in understanding for other groups.
In response, this free French webinar aims to equip career professionals to work with refugees, offering practical tools and an intervention guide for individual and group counselling.
CERIC's webinars are now hosted via the Zoom events platform to provide more interactive learning and networking opportunities. Participants will have access to a lobby where they can interact with other participants before, between and after the sessions, as well as many interaction options during the live webinars. An FAQ answers any technical questions. Paid webinars will be recorded and individual certificates of attendance will be provided to all registered participants who attend the webinars live.
CERIC partners with associations and organizations across Canada and beyond to present webinars that offer affordable professional development. Previously, CERIC has also worked with the Association of Service Providers for Employability and Career Training BC, BC Career Development Association, Canadian Association of Career Educators and Employers, Canadian Association for Supported Employment, Career Development Association of Alberta, Canadian Counselling and Psychotherapy Association, Career Professionals of Canada, Co-operative Education and Work-Integrated Learning Canada, Experiential and Work-Integrated Learning Ontario, First Work, Labour Market Information Council, New Brunswick Career Development Association, Nova Scotia Career Development Association, Ontario Association of Career Management, Ontario School Counsellors' Association, Vocational Rehabilitation Association (Canada), and the US-based National Career Development Association.